在今天,我们高兴地宣布,我们与国际一流团队VIVA达成合作伙伴关系!
众所周知,自成立以来,中国晨曦车队一直致力于社区发展和团队建设,现在我们有了新的机遇。我们与VIVA将在多个领域达成合作,共同致力于建立并发展相互协作、相互支持、共同发展的紧密的合作关系,通过交流和合作,实现信息互通、资源共享、优势互补,彼此尊重各国之间的习俗文化。
与此同时我们也将和Fast Cargo、LFS、GROFR一道,共同合作成长,创建虚拟卡车世界的未来。
在此之前我们已经有一个完善的合作伙伴团队在中国(中国车队联盟),它包含了近30支团队,我们已经连续举办了15次大型活动。同时我们还有斯堪尼亚(中国)有限公司(现实中)作为我们的特约合作品牌。
我们期待着不断增长的合作伙伴,共同致力于进一步影响这个精彩的社区!
Today, we are happy to announce that, Chenxi VTC is officially in partnership status with internationally first-class VTC, VIVA Trucking!
As you may have known, Chenxi is committed to develop community and build the VTC team. From now on, we gain new and better opportunities. We will cooperate with VIVA Trucking in various areas, commonly devoted into VTC development and cooperation. We will support each other and develop a tight partnership relationship, with more communications and internal cooperation. We have agreements on overflow of information, share of resources and complementation of advantages and all of us respect the customs and cultures of other countries. At the same time, we will work together with Fast Cargo, LFS and GROFR. Innovate the future of the TruckSim community.
Meanwhile, we will cooperate with Fast Cargo, LFS and GROFR, progressing at a higher level, to innovate the future of the TruckSim community.
Prior to this, we have set up a well-established Chinese partnership team, China Truckers Alliance. It consists of almost 30 VTCs with 15 consistent large-scale events held by us. Furthermore, we have an exclusive sponsor, Scania (China) Corp. Ltd., as a cooperative brand of us.
We are looking forward to growing our partners and working together to further impact this amazing community.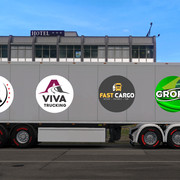 CN: Sange | COO
EN: Edmund | Translator
Chenxi VTC
28 Oct 2019